Sinbad?
Argonauts?!
Titans?!?
Harryhausen Still Making Movies from the Grave!
What?! He's Not Dead?!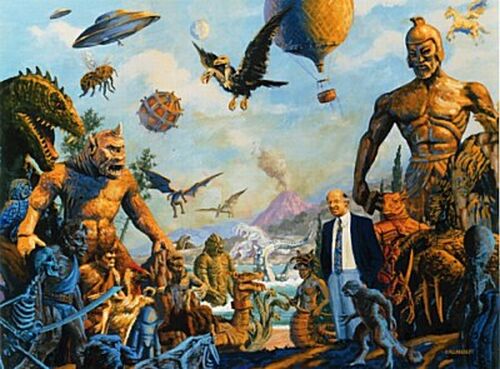 New Harryhausen Movies Due
from
Sci-Fi Wire
Legendary
visual-effects pioneer Ray Harryhausen's unproduced works may see the light of day now that independent production company Mindfire Entertainment has optioned the material for films, Mindfire's chief executive officer Mark Altman told SCI FI Wire. "We respect Ray Harryhausen," Altman said in an interview. "So when the opportunity came to get involved, it just seemed like a natural fit. To finally see these things come to the screen is very exciting."
The deal
with Mindfire allows for four films to be made under the "Ray Harryhausen Presents" banner and will draw on ideas Harryhausen has had over the years for new
Sinbad
,
Jason and the Argonauts
and
Clash of the Titans
movies, as well as a science fiction concept called
The Elementals
. The deal also includes projects that have "lost world" and "alien invasion" themes. (Mindfire is best known for inexpensive independent genre films such as House
of the Dead
and
Room 6
, as well as the theatrical releases
Free Enterprise
and
The Specials
.)
"Some of [Harryhausen's] ideas were extremely well thought out," Altman said. "Others are just log lines and notions that Ray was noodling over. Our writers will expand upon these concepts, in consort with Ray, into full stories."
Altman
said that the deal initially allows for four films, but could go beyond that number. Altman added that Harryhausen will be actively involved in the development of stories and will oversee special effects. "What he did for his films in the past is what he will bring to his films in the future," Altman said. "It will be Dynarama for a new era. We suspect that a lot of the effects for these films will be done in CGI, but they will contain a feel that will be true to the classic Dynarama process." Altman said that the first film will most likely be shot this fall and will be released sometime in 2007.
Harryhausen
is known for his groundbreaking visual effects in films such as
Mysterious Island, Jason and the Argonauts, The Golden Voyage of Sinbad
and
Clash of the Titans
. In 1992, Harryhausen received the the Gordon E. Sawyer Award from the Academy of Motion Picture Arts and Sciences, presented to an individual in the motion-picture industry
whose technological contributions have brought credit to the industry.
In >related news, Harryhausen will be working in a consultant capacity with San Diego-based Legend Films on the colorization of director Merian C. Cooper's 1935 film version
of H. Rider Haggard's novel She. Harryhausen has also signed a contract with U.K.-based trading-card company Strictly Ink to put out a series of trading cards featuring images from his films, as well as preproduction art. No release date for the card set has been announced.