My Vote: Crispin Glover
Too bad Cyndi Lauper can't act. And that she's, like, 87 or something.
Robin Williams as Joker in Batman Begins 2?
from Cinescape
In a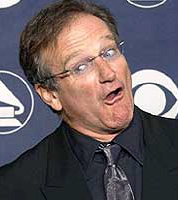 recent interview with
IGN
, Robin Williams talked about the possibility of playing Joker in
Batman Begins 2
. While it is all speculation and the role is yet to be cast, it was an interesting interview.
Favorites for the role have not previously included Robin Williams name, but he does have ties with director Christopher Nolan. As such I wouldn't quite rule out the possibility, just take the news with a grain of salt.
Some interesting quotes from the IGN interview:
"Oh
God, I'd love to do that one," Williams said regarding playing the Joker.
Williams is famous for his Jack Nicholson impression, but he suspects Nolan would be looking for a new take. "Well, you want to do a different Joker. You know, if they do
Arkham Asylum
, it would be amazing.
Arkham Asylum
is one of the greatest, nastiest comic books ever. It's truly, it's like the Marquee de Sade on that level, and wonderfully damaged and quite tragic, in terms of when you realize [what happened to] create these characters..."
Other actors mentioned as possibilities were Adrian Brody or Paul Bettany. While it seems Bettany was looked into regarding the part, news suggests that it is unlikely he will get the role.