It's Begun: Planet of the Apes
Monkey Apes Humans by Walking on Two Legs
from Associated Press
JERUSALEM - A young monkey at an Israeli zoo has started walking on its hind legs only — aping humans — after a near death experience, the zoo's veterinarian said Wednesday.
Natasha, a 5-year-old black macaque at the Safari Park near Tel Aviv, began walking exclusively on her hind legs after a stomach ailment nearly killed her, zookeepers said.
Hmmm...you know what? That's a little freaky.
Two weeks ago, Natasha and three other monkeys were diagnosed with severe stomach flu. At the zoo clinic, she slipped into critical condition, said Igal Horowitz, the veterinarian.
After intensive treatment, Natasha's condition stabilized. When she was released from the clinic, Natasha began walking upright.
"I've never seen or heard of this before," said Horowitz. One possible explanation is brain damage from the illness, he said.
Otherwise, Horowitz said, Natasha's behavior has returned to normal.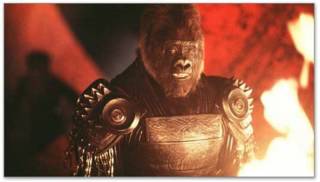 Natasha now plots the brutal deaths of 'the hairless ones.'
Yawning Is Contagious Among Chimpanzees
from Associated Press
TOKYO - Ai, a 27-year-old chimpanzee in western Japan, watches another chimp yawn, quickly rolls back her head and soon is showing the pink inside of her mouth in a gaping yawn of her own.
"It's another good example of how chimpanzees are so like us," Tetsuro Matsuzawa, professor at the Primate Research Institute at Kyoto University who took part in the Japan-based study, told the Associated Press Monday.
The study, published this month in the British online journal The Royal Society Biology Letters, says that out of six chimpanzees under observation, two clearly yawned repeatedly in response to videos of other chimps yawning.
Three infant chimps accompanying their mothers did not respond at all, it said.
Meanwhile, none yawned in response to images of other chimps just opening their mouths.
The pattern fits that of humans, Matsuzawa said.
Contagious yawning is thought to be a result of empathy and self-awareness, both of which require a sophisticated intellect, the study concluded.
Previously, it was believed that only older humans yawned contagiously because young children and animals did not have the intellectual development necessary.
But the study said its findings provide further evidence that apes may possess an advanced level of self-awareness and empathy like mature humans.
"Humans have a strong belief in our differences," Matsuzawa said. "Objectively, we should be one member of the apes."