Et Tu, Brute?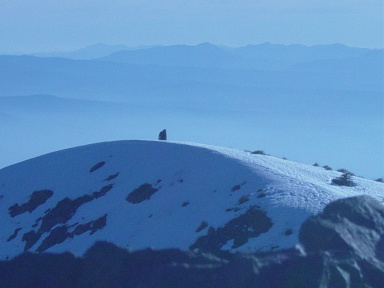 Is That You, Bigfoot?
from Sploid
A
Washington-state backpacker came home with startling images that just might show the legendary Sasquatch lumbering through the snow atop
Silver Star Mountain
in Gifford Pinchot National Forest.
The Bigfoot Field Researchers Organization has just
published the eerie photographs
online.
The hiker, identified only as "RC," reportedly snapped the digital photos on Nov. 17. Both show a dark figure moving along the mountaintop, with the landscape obscuring the body from the waist down.
Someone hiking or snowshoeing across the peak would be wearing gear that could be easily identified, the Bigfoot research group says. But no parka, hat, sunglasses or backpack can be seen in the pictures.
Instead, the images seems to show a very tall creature wearing nothing but dark fur.
Researchers interviewed the backpacker last week and found him credible.
"His locale and normal activities would have put him in a position to get these photos. The story and photos do not appear to be hoaxed," the
BFRO investigator wrote
. "These photos have not been digitally manipulated or enhanced. They were copied by our own investigator straight off RC's digital camera."
Bigfoot experts have encouraged other hikers to have cameras at the ready when traveling through the remote trails of
Gifford Pinchot National Forest
.
There have been
multiple
"credible"
sightings
of Sasquatch this year along the Cascade Mountains.
Just last month, researchers confirmed that a massive ape lived for centuries alongside humans. The 10-foot-tall monster is known as
Gigantopithecus
, and scientists say it could be the source of
Bigfoot stories
from all over the world.
BFRO recently released amateur video apparently showing "
baby bigfoots
" moving around the limbs of a tree in the forest.