Meatbags at Fox Rethink Futurama's Future
Back to the Futurama?
from E! Online
What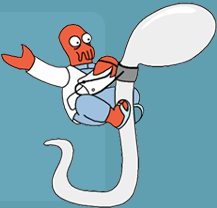 has Stewie Griffin wrought? How about a Bender rebirth.
Following the hugely successful resurrection of
Family Guy
, Fox execs are reportedly in talks to bring
Futurama
back from the dead.
The studio has begun talks to revive the Emmy-winning animated series and produce a limited number of new episodes, thanks to a resurgence in the show's popularity on DVD and in reruns,
Variety
reports.
If revived, it's unclear exactly which network would air the new episodes. While Fox housed the original series, the show found new life once reruns began showing on the Cartoon Network. Comedy Central subsequently snapped up the off-air rights and will exclusively air the repeats beginning in 2008.
The brainchild of Simpsons mastermind Matt Groening and writer David X. Cohen,
Futurama
debuted on Fox in March 1999. After five seasons and three Emmys, including the 2002 prize for Best Animated Series,
Futurama
was shuttered in August 2003.
Should
the show make its way back to the airwaves, it would follow in the footsteps of another Fox cult 'toon,
Family Guy
. The latter show was brought back in 2004 thanks to robust rerun ratings and staggeringly high DVD sales - the show ranks as the fourth-biggest TV series seller ever.
For
Futurama
to return, the studio would need to re-sign the show's production team, as well as voice stars Billy West, Katey Sagal and John DiMaggio.
In the meantime,
Futurama
lives on in comic-book form, with all-new stories continuing to be released by Groening's Bongo Comics.