Girl Found Wandering Graveyard...
11 Years After Her Death!
And Not Craving Delicious Braaainnnns!
Girl 'Resurrects' after 11 Years
from Nation Online
AFRICA -
Sixteen-year-old Josephine Chilamba, who died at the age of five in 1994, is believed to have resurrected last month after spending 11 years in the world of darkness.
Josephine surprised people who spotted her walking around a graveyard as mourners were returning home after burial ceremony of one village member in Mkungula Village on October 2, 2005.
Josephine told people who questioned her that she was looking for her mother, Luduwina Chilamba.
Luduwina said her daughter died in April, 1994 after a short illness as they were transporting her to Nkhoma Mission Hospital.
She said people were puzzled to note that Josephine's body felt like any normal living body in terms of temperature, an indication of something fishy surrounding the girl's mysterious death.
She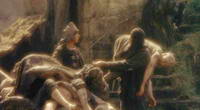 said women, who were washing the body, noticed that the girl's hands were grabbing the funeral caretakers, adding that the girl could urinate and sneeze as her body was being washed.
Josephine said after disappearing from this world she was taken to a certain house where she met other 15 stranded people who were made to work on the owner's garden, grocery shop, and do other house chores like drawing water and cleaning utensils. The landlord renamed her Dolpha.
"I used to go to the village well to draw water, where I sometimes recognised my relatives, but I could not talk to them," said Josephine.
Asked how she found herself back to this life, Josephine said there was a man who took her into a confined room with a small glass window. He went to the garden, leaving the door unlocked.
"Something just came into my mind to try to open the door," said Josephine. "Then I started running until I found myself near the graveyard."
When
asked his view from a religious point, Pastor Jeremiah Chikhwaza of the Bible Faith Ministries said he knows that magic and witchcraft are real.
"For example, in the book of Exodus Moses used magic power," said Chikhwaza. "I have some friends who claim to have used such powers when they were Satanists."