Pseuperman II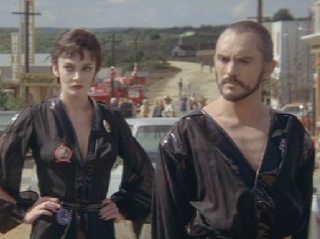 Kyptonian criminals Ursa (Christopher Gomez) and General Zod (Christopher Gomez).
Superman II Lives - Live
from E! Online
Wednesday night in the Chino, California, you will believe that Christopher Gomez can fly. Probably.
"I
guess it all depends on the imagination of the audience," says Gomez, a 24-year-old college student set to star in a two-act, live theatrical version of
Superman II
.
And when we write
Superman II
, we don't mean Death of a Salesman and said to heck with retyping. We mean
Superman II
- Man of Steel, General Zod, the Fortress of Solitude, etc.
The production at Chino's Seventh Street Theatre is scheduled to run but one night. Which is probably for the best because Gomez is but one man.
In an act of questionable courage, and with confidence that "I'm just making an ass of myself," Gomez will play all parts, and recite all dialogue from the 1981 Christopher Reeve film.
Or, as Gomez promises: "I'm going to be moving all over the stage."
The show is in the tradition of Canadian actor Charles Ross' cult hits,
One Man Star Wars Trilogy
and
One Man Lord of the Rings
.
Gomez plans on "subtle costume changes" - a hat here, a hat there - to portray everyone from a nuclear terrorist to bombshell Eve Teschmacher. As for the love scenes between Superman/Clark Kent and Lois Lane? "I do have it figured out," he says. "It's really tough to explain it, though."
Easier to explain is Gomez' flying technique. In the movies, Reeve took to the sky with the help of bluescreen technology. On stage, Gomez will stand on one leg. And slap his cape.
But the show is more than lark. For one thing, proceeds from paying customers' $2 tickets are to be donated to the Red Cross' Hurricane Katrina fund. For another thing, Gomez boasts a genuine affection for the film, which he says he's seen so many times that he's lost count.
Boasting one of Hollywood's more interesting and/or frustrating back stories,
Superman II
was a movie twice made: First, by Richard Donner, who helmed the 1978 franchise-starter; and secondly, by Richard Lester, who reshot and completed the film after Donner was fired.
It's estimated Donner's version was 70-80 percent complete when the project was restarted - a tantalizing statistic for the faithful who dream of seeing the "lost" work of Reeve, Margot Kidder (as Lois Lane), Gene Hackman (as Lex Luthor) and
Marlon Brando (as Jor-El, Superman's birth father).
The fan site Superman Cinema has been at the forefront in lobbying Warner Bros. to release "the real"
Superman II
. Even a new
Superman II
DVD featuring the considerable Donner footage as bonus tracks would appease. Warners has yet to budge.
Some hope
Superman Returns
, director Bryan Singer's own de facto take on
Superman II
(his film, due out next summer, essentially picks up where Donner's first movie left off), will provide Warners with incentive to open the vaults. Already, the studio has given Singer access to the unused footage of Brando, clearing the way for the late actor to revive his paternal role in the new movie.