His Final Frontier
Remains of Star Trek's 'Scotty' headed for space
from Reuters
LOS ANGELES - Evidently
Star Trek
actor James "Scotty" Doohan took the catchphrase "beam me up" very seriously - his cremated remains will be launched into space in accord with his last wishes.
Commercial space flight operator Space Services Inc. will launch the late actor's remains into space aboard its Explorers Flight on December 6, a company spokeswoman said on Friday.
Doohan,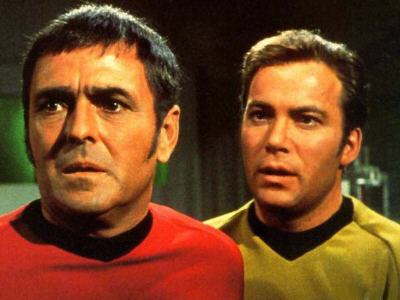 who portrayed feisty chief engineer Montgomery "Scotty" Scott on the
Star Trek
television series,
died in July
at age 85. On the program, when Capt. James Kirk ventured off the spaceship Enterprise and faced peril, he would demand Scotty "beam" his body up to the safety of the ship.
The actual phrase "Beam me up, Scotty," was not used on the show, but it entered pop culture.
To mark the flight into his final frontier, Doohan's family will hold a service for fans on a 60-acre (24-hectare) site near Vandenberg Air Force Base north of Los Angeles the day of the launch to pay tribute to him. Some fans are expected to attend in the formal white suit of a Star Fleet commander.
"I can't think of a more fitting send-off than having some of his fans attend this, his final journey," his widow, Wende Doohan, said in an open invitation to the service.
Doohan's cremated remains will be packed into a special tube that is ejected from the rocket and expected to orbit Earth for about 50 to 200 years before plunging into the planet's atmosphere and burning up.
Fans can post tributes to Doohan at the Space Services
website
. Those messages will be digitized, packed with "Scotty" and blasted into space.