Wait a Minute...There's Something...Very Familiar About These UFOs...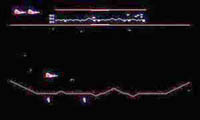 Wednesday's unidentified flying object (left) and 1981's arcade game Defender (right).
UFO Sightings in Bay Area, Nevada
from KRON
SAN FRANCISCO - There was something strange in the skies over California on Wednesday night.
One
San Francisco resident said lights appeared to hover in the sky near the cross on Mount Davidson, and when he looked at them through binoculars they appeared to vibrate.
The unidentified flying objects were visible from the Bay Area to Las Vegas.
The U.S. Air Force says it cannot account for them.
There were no military flights, and no missile test launches.
UFO (left), Missile Command (right).