Military Kills Rudolph!
Hush Money Dries Santa's Tears!
Elves Eat Corpse!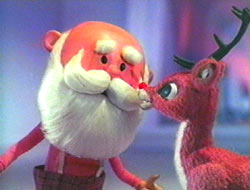 'B-But Rudolph! I thought you were dead!' 'Braaains! I come for your brains, fat man!'
Santa Gets Compensation After Air Force Kills Rudolph
from AFP
COPENHAGEN - The Danish airforce has paid damages to one of the country's many professional Santa Clauses after a blast from a low-flying fighter jet left Rudolph the reindeer lifeless, reports said.
The Father Christmas, whose real name is Olovi Nikkanoff and who lives on the central Danish island of Fyn, told TV2 station that he was devastated last February when he discovered his reindeer's body.
The veterinarian who examined the dead beast concluded that Rudolph had died from the shock of the deafening noise made by the fighter plane.
Following an official complaint from Nikkanoff, the Danish airforce agreed to pay him $4,840 dollars to buy a new reindeer.